Alok Kumar, MD, is the Medical Director of NeuroPsych Wellness Center, PC.  He earned his medical degree at Dayanand Medical College in India.  He completed his residency at the University of Texas Medical Branch, Department of Psychiatry, Galveston, Texas.  He then completed his Geriatric Fellowship at the University of Virginia in Charlottesville.
Dr. Kumar is licensed in the State of Virginia and a Diplomate of the American Board of Psychiatry and Neurology.  He provides clinical treatment services in both inpatient and outpatient settings.  He also supervises students at Dominion Hospital.  Dr. Kumar has received the NOVA Top Doctor award in 2014, 2015, and 2016.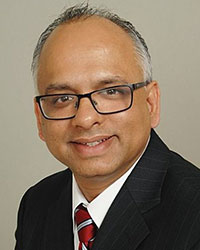 Vikas Mangewala, MD is a practicing child  Psychiatrist in Northern Virginia. Dr. Mangewala attended Dayanand Medical College and school in India.  He completed a residency in psychiatry and fellowship in child & adolescent psychiatry at University of Toledo Medical Center. Dr. Mangewala was awarded with outstanding resident service award at university of Toledo in department of psychiatry 2015 – 2016. Along with his caring nature he is very knowledgeable psychiatrist. Dr. Mangewla was awarded with The William J. Lenz,MD Memorial award for his excellence in psychiatry.
Dr. Mangewala is part of NeuroPsych Wellness Center, PC since August, 2017. Dr. Mangewala also  works at Dominion Hospital to treat patients in the inpatient setting. In addition to English, Dr. Mangewala also speaks Hindi, Urdu and Punjabi languages. He is member of American psychiatric association.
Harish Goyal, MD, is an attentive and qualified psychiatrist serving the community of Fairfax, VA. Dr. Goyal attended Government Medical College in India, where he received his medical degree, and completed his residency in psychiatry at the University of North Dakota.
Dr. Goyal is a part of NeuroPsych Wellness Center, PC since April, 2017 and is board certified in psychiatry by the American Board of Psychiatry and Neurology. He welcomes patients who speak English, Hindi, and Punjabi. His awareness of these different languages makes him accessible to patients from a variety of cultural backgrounds. He is a member of the American Psychiatric Association.
Dr. Goyal is uncompromising in his dedication to the well-being of his patients. He is committed to giving the best care and establishing long-lasting relationships with them.
Jamie Tobelmann, Psychiatric Nurse Practitioner, MSN, CRNP, PMH is a psychiatric mental health nurse practitioner, with a Master of Science in Nursing from the University of Louisville. She provides medication management and outpatient care that has included work with anxiety, depression, post-traumatic stress disorder, obsessive compulsive disorder, traumatic brain injury, addictions, and dementia. Work history includes Norton Hospital in Louisville where she worked with those with severe and persistent mental illness. Her work at Frazier Rehabilitation in Louisville included behavioral management programs for those having experienced a traumatic brain injury, education for families impacted by traumatic brain injury, and neuropsychological evaluation for survivors.
Jamie's background includes achievement in medication management, psychology, nursing, TBI rehabilitation, and acute care psychiatry. Inpatient care has included geriatrics and adults with acute and chronic severe mental illness, addictions and detox, dementia, alzheimer's, AIDS, and PTSD. Member of the American Psychiatric Nurses Association and the American Nurses Association.
At NeuroPsych Wellness Center, PC we can help you through medication management, psychotherapy and/or TMS. We have several providers that can help you feel better sooner than later.
Grace Hipona, MC, NCC, ACS, CSAC, LPC is a licensed professional counselor for the State of Virginia.  She received her Bachelor's in Psychology & Sociology with a minor in Women's Studies from Emory University, Atlanta, GA.  She then got her Masters Degree in Professional Counseling from Georgia State University.  Grace offers individual, couples, family and group counseling with over 10 years of experience.  She also provides licensure supervision for graduates of Master of Counseling programs.
Kristin Godfrey, M.Ed., MA, LPC is a licensed professional counselor in the state of Virginia. She received her Bachelor's in Psychology from Chowan University in North Carolina. She then received a Master of Education in Counseling & Development: Community Agency Counseling from George Mason University followed by a Master of Arts in Human Services Counseling: Marriage & Family from Liberty University. Kristin offers individual, couples, family, and group therapy with 10 years of experience working in the behavioral healthcare field.
Kristin's counseling philosophy is a person centered, strength-based approach, emphasizing self-esteem, positive thinking, and personal resilience. She views that her role is to collaborate with and to assist clients with developing and achieving their goals in counseling.