Alok Kumar, M.D., is the Medical Director of NeuroPsych Wellness Center, P.C. He completed his residency in Psychiatry at the University of Texas Medical Branch, Department of Psychiatry, Galveston, Texas. He then completed his Geriatric Psychiatry Fellowship at the University of Virginia in Charlottesville.
Dr. Kumar is licensed in the State of Virginia and a Diplomate of the American Board of Psychiatry and Neurology. He provides clinical treatment services in both, inpatient and outpatient settings. His special interest is providing consultations and treatment for treatment resistant depression. Dr. Kumar is certified in administering Spravato, In addition, he provides TMS Therapy through Greenbrook TMS, both commonly used and FDA Approved for treatment resistant depression. He serves as the Medical Director for Greenbrook TMS' Fairfax and Arlington Centers. He also supervises Psychiatric Nurse Practitioners and Certified-Physician Assistants. Dr. Kumar has received the NOVA Top Doctor award in 2014, 2015, 2016 and 2017.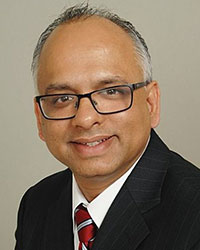 Vikas Mangewala, M.D. is a practicing Child Psychiatrist in Northern Virginia. Dr. Mangewala attended Dayanand Medical College in India.  He completed his residency in Psychiatry and Fellowship in Child & Adolescent Psychiatry at the University of Toledo Medical Center. Dr. Mangewala was awarded with an outstanding resident service award at the University of Toledo in the Department of Psychiatry, 2015 – 2016. Along with his caring nature, he is a very knowledgeable psychiatrist. Dr. Mangewala was awarded with The William J. Lenz, MD Memorial award for his excellence in psychiatry.
Dr. Mangewala is part of the NeuroPsych Wellness Center, P.C. team since August 2017. Dr. Mangewala is also the Medical Director of the Child and Adolescent Unit at Dominion Hospital, where he treats patients in the inpatient setting. In addition to English, Dr. Mangewala also speaks Hindi, Urdu, and Punjabi. He is a member of the American Psychiatric Association.
Cory Alfers, D.O. is a Board-Certified Psychiatrist specializing in Adult Psychiatry. He completed his undergraduate education at Virginia Tech, graduating Cum Laude with degrees in Biology and Chemistry. Following graduation, he completed a research internship at the National Institutes of Health where he received a Postbaccalaureate Intramural Research Training Award. He received his medical degree at Western University of Health Sciences in Pomona, CA. He completed his General Psychiatry Residency at Georgetown University and served as Chief Resident during his fourth year. During training, he developed a special interest in the treatment of adult mood disorders, attention deficit hyperactivity disorder (ADHD), and anxiety disorders. Dr. Alfers takes a comprehensive approach to patient care, integrating biological, psychological, and environmental factors into treatment planning. Dr. Alfers is available to see new patients, 18 and older.
Radha G. Agepati, M.D. is a Board-Certified Psychiatrist specializing in Adult and Geriatric Psychiatry. She was among a small group of psychiatrists who graduated from the Geriatric Psychiatry fellowship program from Weill Cornell Medical College, NY.
After receiving her medical degree from Gandhi Medical College, India, Dr. Agepati pursued her higher studies in United Kingdom. She trained in the Worcestershire rotational training scheme in Psychiatry for 2 years. She then moved to the United States and completed her General Psychiatry Residency at Bergen Regional Medical Center in NJ, where she also served as Executive Chief Resident. She then completed her fellowship in Geriatric Psychiatry at New York Presbyterian Hospital/ Weill Cornell Institute of Geriatric Psychiatry under the supervision of esteemed psychiatrists and teachers including Dr. George Alexopoulus, Dr. Robert Young, and Dr. Robert Abrams. Dr. Agepati then worked in Inova Mount Vernon Hospital and Inova Alexandria Hospital for a year, before entering private practice. She has also worked with elderly patients and families in assisted living and memory care units over the last 4 years. Training and working in different systems and cultures enriched Dr. Agepati's fund of knowledge and experience in the practice of psychiatry, which has been as diverse as psychiatric illnesses themselves.
Beyond her expertise as a psychiatrist, Dr. Agepati is known to be professional, thorough, empathetic, and works with the patient and their families, helping them overcome their illness. She takes pride in providing her patients an outstanding experience and the highest quality for patient care. Psychiatric illness has a biological basis, further compounded by environmental and social factors, thus making necessary, psychiatric management a comprehensive one, including medications, psychotherapy, enhanced family and social support and rehabilitation. Dr. Agepati is available to see new patients, 25 and older.
Board Certification
Adult Psychiatry – American Board of Psychiatry and Neurology
Geriatric Psychiatry- American Board of Geriatric Psychiatry
Pamela Wall, Ph.D., PMHNP is a Board-Certified Psychiatric Nurse Practitioner who graduated from the University of Pennsylvania with a Master of Science in Nursing, Rush University with a Post Master's Certificate as a Psychiatric Nurse Practitioner, and from the University of Pennsylvania with a PhD. She has over 20 years of experience in psychiatric nursing overall, with 15 years as an Advanced Practice Psychiatric Nurse.
Dr. Wall has 20 years of experience with the military in inpatient, outpatient, deployed, and humanitarian missions. She also has experience in academia as director of two psychiatric nursing programs at Duke and USUHS, and as a residency director at the Durham VA Medical Center. She has international case management experience with the Peace Corps and is a fellow in the American Association of Nurse Practitioners. Her research and publications are focused on PTSD, TBI, sleep and simulation/implicit bias in academic settings. Her clinical expertise is in treating adults with anxiety, PTSD, sexual assault, and depression. Dr. Wall provides medication management and cognitive and behavioral interventions. Her belief as a mental health provider is in delivering individualized treatment algorithms developed in concordance with the client. Dr. Wall is accepting new patients 18 and older.
Suzanne Cox, PMHNP-BC is a Board-Certified Psychiatric Mental Health Nurse Practitioner who graduated from the University of South Carolina with her Master of Science degree. While studying, she became an adjunct professor at the University of South Carolina for 4 years. She has 14 years of psychiatric nursing experience working with children, adolescents, and young adults in inpatient, residential, and outpatient settings. Her expertise is diagnosing and treating individuals with depression, anxiety, PTSD, attention disorders, and those dealing with life stressors. Ms. Cox is accepting new patients 17 and older.
Ms. Cox provides psychiatric medication management, supportive, and relaxation therapy. She strives to understand everyone's unique experiences, past and present, that contribute to current symptoms. She uses evidence-based practice as a guide for treatment. She is a licensed nurse practitioner in the State of Virginia and is a member of the International Society of Psychiatric Mental Health Nurses and the Virginia Council of Nurse Practitioners. In her free time, she enjoys biking, hiking, and practicing yoga.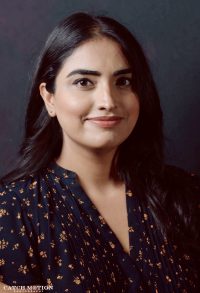 Simrit Kahlon, MSPAS, PA-C is a Certified Physician Assistant specializing in Neuropsychiatry and general medicine. She received a bachelor's degree in Pre-Medicine from Penn State University, and her master's degree and physician assistant training at Thomas Jefferson University in Philadelphia in 2016. Her professional interests include Neuropsychiatry, Urgent care, and General/Family Medicine. She is an active member of many professional organizations, including AAPA and is Board-Certified by NCCPA. In her leisure time, she enjoys reading, playing music, and traveling. She is currently welcoming new patients, 18 and older and accepts most insurance plans.
Leah Wills, MPA, PA-C, is a board certified Physician Assistant with over a decade of experience predominantly in emergency medicine and urgent care. She earned a Health Sciences bachelor's degree as well as a Physician Assistant master's degree at Duquesne University in Pittsburgh, Pennsylvania. She is licensed to practice in Virginia, Georgia, North Carolina, and Ohio and is also a member of the American Academy of Physician Assistants. Leah prides herself on being an empathetic listener and determining treatment plans with her patients in a teamlike approach. In her free time she enjoys spending time with her husband, son, dog, and cats. She loves to travel, sing, and relax at the beach.
Manisha Kochhar, MSPAS, PA-C, strives to offer objective, compassionate and respectful care for patients that will support, teach, and provide the necessary skills to allow them to grow to achieve their personal goals. Manisha has interest in aspects of mental health ranging from severe depression, anxiety to more serious mental issues. Her career has helped her cultivate empathy for every patient relationship, allowing her to give the most valuable care to every individual. She became a Physician Assistant to help patients better understand their mental illnesses, overcome the stigmas attached, and learn how to better manage their conditions to improve their quality of life.
She received a bachelor's degree in Biology from George Mason University and a Master of Science in Physician Assistant Studies from Seton Hill University. Her area of interest in assessment and treatment of Psychiatric illness like depression, anxiety disorders, treatment resistant depression, mood disorders, thought disorders, attention deficit disorders, cognitive deficit, substance use disorders etc. She is board certified with NCCPA. She is also an active member of the American Academy of Physician Assistants. In her free time, she enjoys spending time with family and friends, traveling, and participating in outdoor activities.
Hassan Karimi, Ph.D. LMFT
Dr. Karimi has been working as a therapist, faculty, and researcher for the last 20 years both in the United States and overseas. He is a
Licensed Marriage and Family Therapist (LMFT) in Virginia, Maryland, and New York. He received his Bachelor and master's degrees in clinical psychology from Ferdowsi University. He completed his Ph.D. in Marriage and Family Therapy at Virginia Tech University, which is a COAMFTE-accredited program by American Association for Marriage and Family Therapy (AAMFT). Dr. Karimi completed his Ph.D. internship at the Mental Research Institute (MRI), the birthplace of systemic-family therapies, in Palo Alto, CA. He received extensive training in systemic/relational therapies and Brief Therapy too.
Based on his research and clinical experience, Dr. Karimi is an integrative therapist who tailors evidence-based treatments/theories with the client's characteristics and preferences. His study on clinicians across the United States indicates that client's motivation is the most important factor in therapy outcome. So, Dr. Karimi strongly believes each client and family has a theory of change and resources to activate that. He provides individual, couple, and family therapies and taking new clients.
Dr. Karimi has been teaching at graduate and undergraduate programs. He has taught in counseling, clinical psychology, and family therapy fields at several universities in Iran and in the United States, including: Johns Hopkins, Virginia Tech, Ferdowsi U., and Iona College. Dr. Karimi as an AAMFT Approved- Supervisor provides supervision and training to therapists who are interested in couple and family therapy. He also presented at professional conferences and organizations. Dr. Karimi involves in research and publication too. His research interests include child abuse and neglect in the context of family system, cultural issues in therapy process, family intergenerational patterns, and common mechanisms of change in successful therapies. He recently co-authored a book chapter (DOI: 10.5772/intechopen.85357), that explains common mechanisms of change in successful marriage and family therapies.
Grace Hipona, Ed.D., NCC, ACS, CSAC, LPC is a native of Kansas City, MO, and has been living in the DC area for about 12 years.  She received a bachelor's degree (BA) from Emory University in Atlanta, GA, where she majored in Psychology and Sociology and minored in Women's Studies. She obtained her Master of Science Degree (MS) in Professional Counseling from Georgia State University located in Atlanta, GA, as well. Dr. Hipona also received a Doctorate in Education (EdD) in Counselor Education and Supervision from Argosy University in Washington, DC. Her dissertation's focus was on disaster mental health (specifically sheltering-in-place).
Dr. Hipona holds the following licenses and certifications: Licensed Professional Counselor and Certified Substance Abuse Counselor in the State of Virginia, an Approved Clinical Supervisor, and a National Certified Counselor.  She is a member of several professional counseling associations and organizations including the American Counseling Association, Chi Sigma Iota (counselor honor society), National Board for Certified Counselors, Virginia Counselors Association, and Northern Virginia Licensed Professional Counselors.
Dr. Hipona's professional/clinical experiences involve a variety of issues in the mental health field including, but not limited to, HIV/AIDS, domestic violence, rape survivors, trauma, severe mental illness, women's issues, ADHD/ADD, depression, and anxiety. She has experience providing assessments and individual, couples, family, and group therapy. She also works with a range of ages from 6 years-old to older adults.
Dr. Hipona has experience with higher education in counseling, research in the counseling field, case management, treatment planning, crisis intervention, medication management, psychoeducational groups, training, internship/practicum (undergraduate and masters-level students) supervision, and licensure supervision in the state of VA. Her counseling philosophy includes, but is not limited to, strength-based, person-centered, CBT, Reality and Adlerian therapy. Her specific counseling interventions are individualized based on initial assessments and in collaboration with the client.
Christina Webster, LCSW is a Licensed Clinical Social Worker for the State of Virginia.  She received her Bachelor of Social Work from The College of Brockport, State University of New York.  During her time in Brockport, she interned at a nursing home where she was able to emotionally support the elderly population.  She then received her Master of Social Work from Binghamton University – State University of New York.  She interned at an outpatient mental health service serving the adult population and became a full-time employee.
Ms. Webster provides psychotherapy and CBT services.  She uses a person-centered model with eclectic therapeutic approaches that have helped manage depression, anxiety, PTSD, Bipolar Disorder, Personality Disorders, Schizophrenia, and other mental health issues. It is her passion to help her client's sort through their emotional challenges and explore the best therapeutic approach to help resolve their issues.  She is here to be your listening ear, empower and motivate you in order to achieve your mental health goals.
She is currently accepting new patients, 16 and older and is in-network with Medicare, BCBS plans, Cigna, Aetna, and UHC.
Venise Darisme, M.A. NCC, LPC, CCTP, CMHIMP, Certified I – Eating Disorder Treatment Clinician, is a National Certified Counselor and Licensed Professional Counselor with NeuroPsych Wellness Center, P.C. She has a Master of Arts degree in Pastoral Clinical Mental Health Counseling from Marymount University. Her Bachelor of Science degree is in Psychology with a minor in Biology from Mount St. Mary's University. She also completed her Career Studies Certificate in Early Childhood Development from Northern Virginia Community College. She is an approved supervisor by Virginia Board of Counseling to supervise residents in training. Ms. Darisme has over 10 years in the Human Services field and has additional certifications: EDIT Certified I – Eating Disorder Treatment Clinician, Certified Mental Health Integrative Medicine Provider focuses on Nutrition for mental health professionals and Certified Clinical Trauma Professional.
Over the years she has demonstrated herself to be a motivated professional with education, experience, and skills in Individual Counseling, Eating Disorder treatment, Applied Behavior Analysis (ABA) therapy for those with Autism and other developmental disabilities, parent training, education counseling, career counseling, play therapy, pastoral counseling-spiritual/religious struggles, grief and loss, multicultural issues, substance abuse, depression, and anxiety. Ms. Darisme particularly enjoys working with children and families. She utilizes a person-centered therapeutic approach while employing behavioral, cognitive-behavioral, creative arts, play, and existential techniques. She is overjoyed to be part of the NeuroPsych Wellness Center team and is taking new clients.
Abebayhu (Mimi) Tekalign, MHC is an empathetic and multi-cultural mental health counselor who received her Bachelor's in Psychology from George Mason University and her Master of Professional Counseling from Grand Canyon University. She provides individual counseling to children, adolescents and adults. Mimi uses an integrative therapy approach with a blend of Cognitive Behavioral Therapy (CBT), Solution Focused Brief Therapy (SFBT), Client-Centered Therapy, Mindfulness, Psychoeducation, and Motivational Interview to bring about substantial changes and improve individuals' life experiences.  She sees 6 and older. 
Craig Dupuis, LPC, LMFT has been working in the field of mental health and addiction since 1992. He became a Licensed Professional Counselor and Licensed Marriage and Family Therapist in 1997. He obtained his master's degree in Counseling in 1992 from Old Dominion University and his undergraduate degree in Psychology from Virginia Wesleyan College (University) in 1990. Over the past 24 years, he has worked in many different settings including community mental health centers, residential treatment facilities as well as private practices. He also worked with military personnel as a Military and Family Life Counselor.
Craig also holds certifications in by the American Society of Addiction Medicine (ASAM), as well as a Substance Abuse Professional (SAP) under the US Department of Transportation. He is an approved provider by the Virginia Counseling Board to help residents in counseling and marriage and family therapy work towards independent licensure.
Craig is certified in Dialectical Behavior Therapy and used this as well as Cognitive Behavior techniques to provide treatment to a wide variety of mental health and addictive disorders. He has helped many individuals and couples resolve a variety of issues and improve their lives.
He grew up in New Jersey but moved to Virginia in 1985. He has been married for almost 24 years and has two daughters who are currently in college.